Congratulations to PM Narendra Modi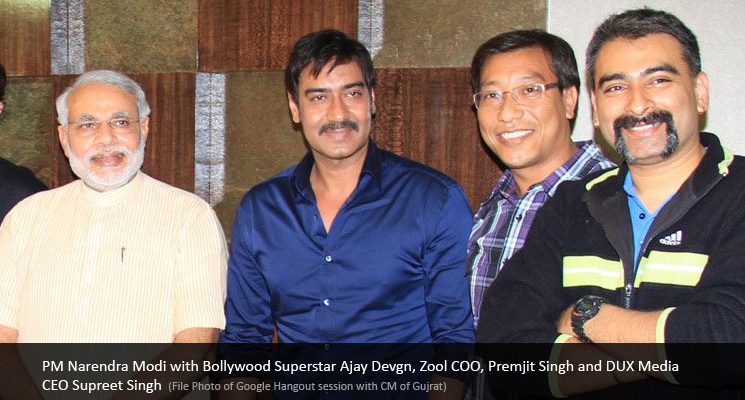 Team Zool congratulates Prime Minister Narendra Modi on taking office as the 15th Prime Minister of India. Members of team Zool had an opportunity to interact with Mr. Narendra Modi during a google hangout event in September 2012, managed by Dux Media. In the photo above, PM Narendra Modi (then CM of Gujrat) with Bollywood Superstar Ajay Devgn, Zool COO, Premjit Singh and DUX Media CEO Supreet Singh.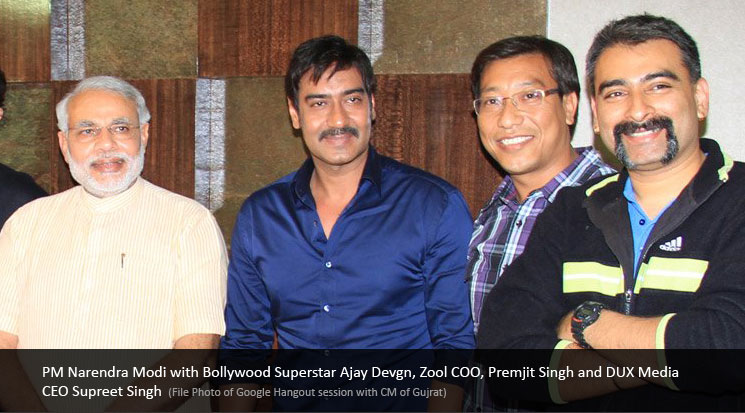 We wanted to know what the experience of meeting NaMo himself was for our COO, Premjit Singh.
Q. Premjit, what was your impression of meeting with Narendra Modi-ji?
A. Well, we were managing the Google hangout session and it was completely thrown off time with some last minute technical glitches. We had to make several last minute adjustments to get back online. We were delayed by almost an hour and a half. The honorable Chief Minister did not shun us on time delays, but patiently waited and said, "It's technology after all, some issues will be there – don't worry I know you guys will resolve it soon"
Q. Did you ever think that you were standing next to the future Prime Minister of India?
A. Not the least at that time, but what I admired back then was that Narendra Modi ji had a very techno savvy and professional team around him. His confidence in them, and their trust in him came across as infallible. It felt more like meeting the CEO of a large company than a tradition politician or Chief Minister of a state.
Q. Anything more you would like to add?
A. Just a hearty congratulations to Modi ji. Ab ki baar Modi Sarkar. Make India proud.