The Proof is here, finally!!!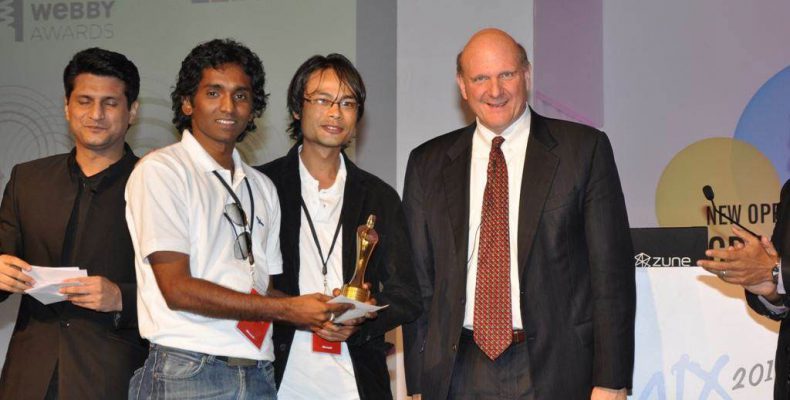 Well, honestly – we didn't have any proof that we actually won the Indian Webby's – and that too from Steve Ballmer himself. Some interesting people refused to accept even photos or video as proof (which we had none – coz we forgot the camera) but when we said we met Mr. Ballmer in person asked for blood samples instead to which we confidently said O+ve to gain some credibility. Supreet Singh from the Microsoft team finally saved us some face and send us the photos we have been waiting for a week now. We tried to say everything here on our blogs in words on our achievement and what it meant to be on the top of our game, but nothing says it better than a picture – for a picture speaks a thousand words.
So finally finally finally photos of team Zool (Rafi & Vikas Konsam) receiving the Indian version of Webby / Web Excellence Award in Online Retail Category from Microsoft CEO Steve Ballmer. The host on the stage to our left is Rajiv Makhani – who is a popular anchor, Tech Guru and TV host of NDTV's Gadget Guru and Net 3.0 shows. The person on the right along besides Steve Ballmer is Mr. Moorthy Uppaluri(General Manager, Country Head (DPE), Microsoft India (he delivered a strong opening keynote at the Microsoft Indimix and got us really charged up – coz our presentation had some of the key points he was mentioning – so we knew we were on the right track)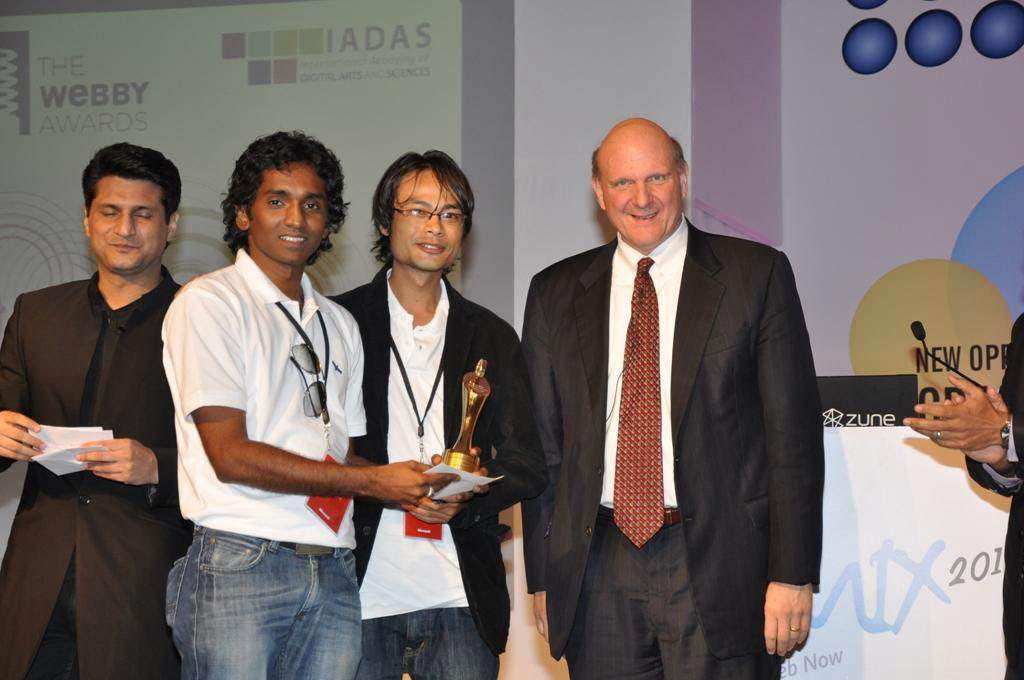 A little background about the Awards and experience (for the inquisitive you)
Microsoft and THE WEBBY AWARDS (which is considered the Oscars of Web Excellence awards in the US – powered by the IADAS International Academy of Digital Arts and Science) in association with Indiatimes.com had organized an Indian version of the Webby awards for India – where design agencies and companies were asked to participate and submit ideas in a power point over a period of 2 1/2 months on a re-design strategy of Indiatimes owned "Indiatimes Shopping" portal and one for "Online Video" delivery strategy . They then shortlisted 10 teams and gave some additional tasks such as prototyping the design and implementing the ideas that were on paper. Out of this top 10 from around 100 companies that participated around 2 were shortlisted to present the ideas and prototypes live at the Microsoft Indimix (an annual Microsoft Developer Forum with keynote by Microsoft CEO Steve Ballmer)  to a panel of esteemed Judges: Dr. Eric Schaffer (CEO-HFI), Pradeep Srivastava (CMO, Idea Cellular), Rishi Khiani (CEO, Times Internet), Vikram Chandra (CEO, NDTV).
Our team (as team Zool) had submitted entries (an Idea presentation and prototypes) for both the categories and were shortlisted in the top 5 finalists for the "Online Video" and top 2 finalists for the "Online Retail" Category. The live pitch was at Taj Lands End Hotel, Mumbai (on 28th May 2010). The format of the live pitch was a 8 min presentation with a hard stop at the end of 9 mins followed by questions on the presentation from the panel of Judges. We were the first team on stage and followed by Sapient Nitro's team which was the 2nd finalist for the live pitch for Online Retail Category. We delivered a complete and comprehensive presentation of our ideas and prototype screenshots in well under 8 mins and took the questions from the judges sharing our depth and breath of knowledge on the ideas we had presented to the satisfaction of the judges. We got a very positive crowd response and later many in the audience walked up to congratulate on our presentation and assured us that Sapient Nitro put on an average show compared to us and we were sure shot the winners. We also gave an interview to NDTV and Business World on our experience on the competition and our technical backgrounds and details on our participation etc. None of which has been aired or printed as we blog on this – so references yet to come.
By the time, the awards were to be announced after the Keynote by Steve Ballmer, we were already seated on the front row and were positive that we would be taking the trophy home and we did. It was a great honor, privilege and we felt completely elated on having received the award from the Microsoft CEO, Mr. Steve Ballmer. We unfortunately didnt have the photos with us, till Microsoft shared the photos attached only today, else would have shared these details earlier. The rest as they say is now history 🙂
Do read our other blog on our experiences around the event.